Storing Water for Emergencies
It's hurricane season, and at this time of year, families think about setting aside water in case of emergency. But what's the best way?
Plastic water and soda bottles with screw-on tops are suitable for storing water, but they first should be thoroughly rinsed with warm, soapy water.
Containers should be sanitized using a solution of one teaspoon of plain household liquid bleach (5.25 percent sodium hypochlorite) applied to a gallon of water.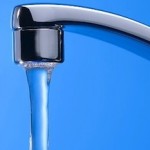 This solution should be left in the container for at least a couple minutes. Empty the containers and follow with rinsing with potable water (water suitable for drinking).
Containers and jugs should be filled directly from the faucet and subsequently labeled as drinking or cooking water, along with storage dates. All unused containers should be emptied after 6 months and the steps repeated, if necessary.